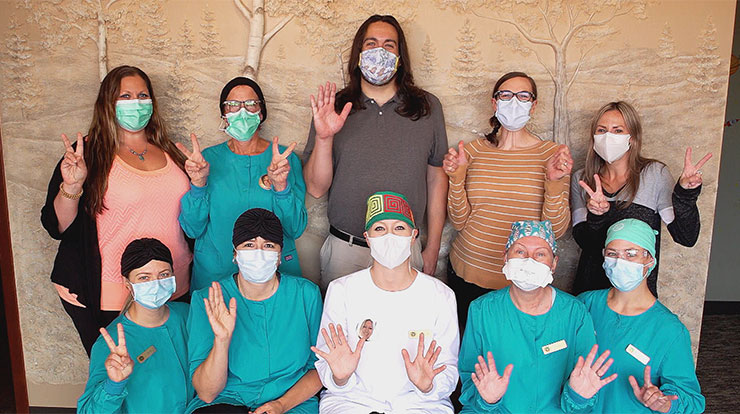 Our Vision
At Northern Trails Dental Care, we are known in the community as a fun place to be. Laughter is commonplace. Our office is filled with patients whose lives have been transformed from their smiles to their overall health. We take great pride that our patients are amazed every day at how comfortable dental care can be. Our exceptional service and peaceful environment make word-of-mouth our best referral source.
Our commitment to excellence is second to none and nothing stands in our way to be the best we can be. We continually search for ways to excel in both the clinical and business realms. Our management practices have created an environment that allows us to have a stress-free schedule while consistently meeting our production goals, thereby improving the quality of life for the entire team and our patients.
We have a team that is passionate and dedicated to completing a circle of care. Our commitment to our patients and each other makes work very rewarding. We are proud to try our best each and every day. Each team member has a clear understanding of her role and responsibilities and is confident in the future of our practice.
Our treatment philosophy lies with each patient interaction; each patient deserves the chance to choose optimal oral health.
---
Meet the Doctor
Gwendolyn Buck, DDS
I'm Dr. Gwendolyn Buck. My friends call me Gwen or Gwennie. Let me share with you who I am. I have a passion for life, for enjoying each moment we are given on Earth, and that passion shows when I'm at work. You can hear the laughter throughout the office every single day. I have an incredible, smart, capable and most importantly caring team, and our office is filled with patients who we genuinely enjoy.
I grew up in the Copper Country and moved to Marquette when I was 9 years old. As long as I can remember I've dreamed of being a doctor, to use my brain to the best of its potential to help people. I have always had a deep interest in science, and I love learning new things.
I've always wanted to see the world, so travel has always been close to my heart. What an interesting place this world is!
My original goal after having a successful career was to retire early and spend several months each year doing mission dentistry. However, I didn't expect to love my job so much! So the plan's been modified-I never want to retire, but I do want to continue and expand the mission dentistry that I do. So far, I've been to Panama, Honduras, Bolivia, Peru and Guatemala. Being born a lucky American in the 20th century, I feel it's my obligation to humanity to help those poorest of the poor, those who make so little that even buying a toothbrush is not an option. I want to leave this world a better place than when I entered it.
Other things that are important to me in life are my family and friends, great food, trying new things, dancing (no, I'm NOT any good at it!), dreaming and accomplishing some goals I've dreamed up, and making sure I have a beautiful heart. My current goals include improving my Spanish and attempting to enjoy running. I need challenges and growth in life to be fully satisfied.
Northern Trails Dental Care is a reflection of who I am. Each patient deserves the most gentle touch every moment I or any team member is caring for him/her. We mindfully reach for the highest quality care with the lowest cost to our patients. Health care costs have become unreasonable. Instead of shrugging our shoulders and saying "I guess that's how it is," we have taken an active interest in helping our patients to afford the dental care that they need. We search for the best supply prices, saving money on inexpensive patient bibs and spending money on the best cement and restorative materials (but at the best price possible). Although our facility is beautiful, care was taken to provide a relaxing, high tech environment while sparing unnecessary expenses by having the least expensive wall trim, a shingle (not metal) roof, paint instead of wallpaper, among other details, so that you can enjoy the best environment while at a reasonable cost.
My education includes a BA in Biology with a minor in French from Northern Michigan University, a DDS from the University of Michigan School of Dentistry and an Advanced Education in General Dentistry certification from the University of Florida Jacksonville. Continuing education is so important to me and my team. Several times throughout the year, we participate in lunch seminars, travel to conferences, and meet about changes we feel we should make to improve patient care. Thousands of dollars are invested every single year on continuing education for myself and my team. You'll find our team at Northern Trails Dental Care very passionate about being the best we can be, for our patients and for each other.
If you're looking for an entirely different dental experience, where you are really listened to and cared for in a low-stress environment, please come and meet our team. I invite you to discover how amazing dental care can be. Welcome!
Meet The Team
Carilyn
Hi, my name is Carilyn. I am fortunate to have lived in the great town of Gwinn for the past 55 years. I have been a Registered Dental Assistant for 35 years and an EMT and CPR instructor for 30 years. I am married to my husband Terry and have 2 amazing daughters together. I have 1 grandson Everett who holds the key to my heart, and I just can't get enough of! I also enjoy cross country skiing, U.P. summers, shopping, and brushing and flossing of course! I'm looking forward to seeing you soon!
Teresa
Hey there! Teresa here! I am the New Patient Treatment Coordinator here at Northern Trails. I get the privilege of spending time with the newest members of our dental family. From the tour of our beautiful office, to the comprehensive exam, to strategizing to achieve your goals—I will be with you every step of the way.
I received a certificate in the Fundamentals of Dental Assisting from Marquette Community Schools and a career diploma in Dental Assisting from Penn Foster Career College. I currently am working on becoming a Certified Dental Business Professional through the Michigan Dental Association. I truly believe that I was born to be in the dental field. I absolutely love what I do, and I thoroughly enjoy caring for my patients. It's hard to believe I've been doing this for a decade already! I don't think there is a better feeling in the world that the reward I get from being a part of peoples' journey to achieve their dental dreams.
I was born and raised in Marquette and now am loving being a Gwinn resident. I love the small town feel here and the sense of community. I am an avid Elvis fan and love to go camping, road tripping to concerts, and to the beach as often as possible. I hope to see you soon!
Stacy
Hi, my name is Stacy. I was born and raised in the U.P. and love everything the U.P. has to offer. My husband and I have 2 awesome, active little boys and the newest member of our family Meeko! He is our German shorthaired puppy and has more energy than he knows what to do with! We enjoy taking him for walks/runs and throwing his tennis ball endlessly! In our free time we love to go fishing (I think my husband likes to bring me because I always catch the big fish), 4-wheeling, camping, spending hot sunny days at the beach and parks, and spending time with my boys! I started working in the dental field right after I graduated high school as a dental assistant. The most rewarding part of my job is helping people achieve their goals and giving them a smile they love! I look forward to meeting you soon!
Cortney
Hi, my name is Cortney! I have lived in the Gwinn area for most of my life and really enjoy being part of such a great community of people. I have been working with Dr. Buck since 2013 and still enjoy learning all that I can about dentistry–there's always something new to learn. In my free time, I love reading, singing, staying active and working out. Most of all, I love spending my free time at Upper Peninsula Bible Camp, volunteering and serving in any way needed. I look forward to getting to know you and helping you to achieve your dental goals in any way that I can!
Michelle
Hey there, my name is Michelle! I began working for Dr. Buck as a Dental Assistant in 2012. I was born on K.I. Sawyer AFB and now live in the area with my family. We love spending our time together and with friends eating, laughing, being outdoors, and getting into mischief (the good kind, I swear!) And do I love to fish!! I am quite adventurous and always willing to try new things. I just adore our dogs and kitties at home, and we also have a love for horses which involves sharing that experience with others.
I am grateful to be able to say that I love what I do! A huge part of this comes from the passionate and joyful doctor that I work for and our amazing team, but also for the awesome patients we get to care for and the community we do it in. If you have not yet had a chance to meet us, please, come in and say hi and see what's going on. Our vast experience and continued training allows us to offer you the best possible care in whatever your needs are while still being compassionate! See you soon!
Kim
My name is Kim, I am a hygienist with the Northern Trails Dental team. I have been a hygienist for over 10 years and have been lucky enough to spend my last few years close to home in Gwinn. Although I have met so many amazing, new people with this career, I still get the most enjoyment when I see familiar faces stop in. In my free time I can be found enjoying live music and local activities or spending time outdoors with my awesome family.
Lexi
Hi there! My name is Lexi! I was born and raised in Gwinn, MI and attended college at Ferris State University. Go Bulldogs! I truly believe dental assisting is my career calling, I am very dedicated and passionate about what I do. I'm proud to be a part of a dental team that puts our patients first from the moment they walk in the door. My favorite part of the job is helping people with their overall health and educating them about all things dental. I love taking care of patients and making people smile, it's true when they say "if you love your job you never work a day in your life!".
In my free time, I like to run races, hike, mountain bike, camp, kayak, fish and spend time with my cat and two dogs! I love experiencing all the world has to offer. I am working on traveling to all the national parks in the U.S. and Canada. There is nothing like sitting in front of a campfire looking up at the stars.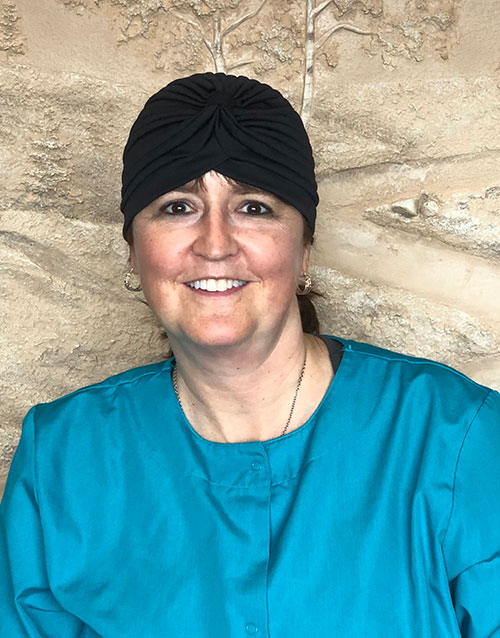 Candia
Hi I'm Candia (Not Candy). 
I've been a RDH since 1991. As a hygienist I have met so many wonderful people and have become close with many of my patients over the years. The best feeling for me is when they tell me how great their mouth feels after I'm done with their cleaning.  I'm happy to be a part of so many beautiful smiles walking around. I have learned many things from my patients too. For example, what movies are a must watch, best restaurants, books to read, and some great hiking and kayaking spots. Since I was born and raised in Marquette I am an avid lover of outdoor activities. In my free time you can find me on the trails either riding my horse, hiking with my hubby and dogs, or snowshoeing.  I also enjoy kayaking, going out in the side by side and barrel racing.
I am a huge animal lover. The barn is a great place for me to unwind after work. We have horses and dogs here at Thundering Trails (They are my sanity)!
Hope to see your smile soon and happy trails to you!
If you have any questions for any of our team members at Northern Trails Dental Care, or are ready to schedule a visit, contact your Gwinn dentist, Dr. Gwendolyn Buck today by calling (906) 661-1026!