A New Crown in a Single Visit
You may remember a time in the not-so-distant past when getting a dental crown was…a bit of a process. And a bit of a hassle.
You would go in for your first appointment, have messy impressions taken (gross), get a painful numbing injection, have the tooth prepared, and have a temporary crown put on while your impression was sent to a lab to be created. Some time later, you would return for another appointment, get another injection, have the temporary removed, and have the final crown put on.
Are we having fun yet?
Thankfully, with advances in modern dental technology, we have taken the whole process and shrunk it down into a single piece of chairside equipment that allows us to design, fabricate, and place crowns in a single visit.
If you are in need of a new crown, look no further. Call Dr. Gwendolyn Buck today at (906) 661-1026 or schedule online!
E4D® Technology
Our E4D® system is a method of CAD/CAM same day technology that is transforming dentistry through digital technology.
What is CAD/CAM?
CAD/CAM stands for Computer Aided Design/Computer Aided Manufacturing. Dr. Buck is proud to be on the cutting edge of dentistry with one of the most advanced pieces of digital technology available.
Our E4D® system takes digital images and turns them into 3D, 360° digital models that it uses to create your final restoration right there while you wait.
Same Day Crowns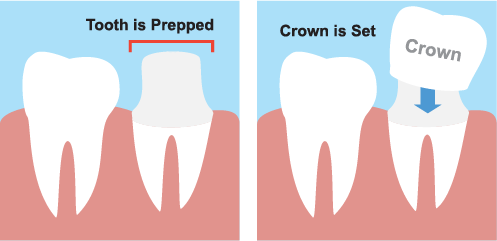 If you have a tooth that is broken, badly decayed, or missing all together, you may require a dental crown to restore the tooth back to health.
The benefits of same day crowns include:
Fewer appointments
Fewer injections
No more temporaries
No more messy impressions
Digital technology
A new tooth in a single visit!
Your Gwinn, MI dentist provides durable and natural-looking crowns that will give you back your healthy, functioning, beautiful smile in a single visit at Northern Trails Dental Care.
If you have any questions about E4D® technology or same day crowns, or are ready to schedule a visit, contact your Gwinn dentist, Dr. Gwendolyn Buck today by calling (906) 661-1026 or schedule online!