Get Back Your Care-Free Smile
At Northern Trails Dental Care, your Gwinn dentist, Dr. Gwendolyn Buck believes that everyone should have a healthy, care-free smile they can feel confident about. She wants all of her patients to enjoy eating their favorite foods with ease, speaking naturally, and smiling and laughing with abandon.
Dr. Buck and our team understand that the loss of your natural teeth can be a traumatic experience. We also know that living with ill-fitting dentures that don't stay in place can be frustrating and embarrassing, and only adds insult to injury.
That's why we're happy to offer several options for modern, life-like dentures that look, feel and function just like natural teeth so you can get back to life without worrying about your smile.
Schedule a consultation with Dr. Buck today to find out how we can give you back your smile, your confidence, and your quality of life with our modern denture options.
Implant-Supported Dentures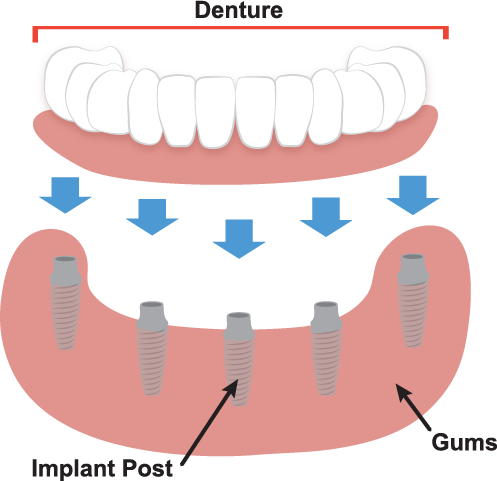 Implant-supported dentures are the gold standard in modern denture technology. Not only do dental implants offer a secure anchor to lock your dentures in place, but they actually become an integrated part of your oral health system by replacing the root of the tooth and fusing with the jawbone. Dental implants prevent bone deterioration and preserve oral and facial structure.
The benefits of implant-supported dentures include:
Lock dentures in place
Clean & maintain like natural teeth
Most comfortable, secure fit
Preserve oral & facial structure
If you already have dental implants and are looking for a new set of implant-supported dentures, you've come to the right place. If you don't have implants but are interested to find out if you are a good candidate, Dr. Buck would love to speak with you. If you are a good candidate with a healthy enough jawbone, she can refer you to a trusted dental implant specialist in Gwinn who will take excellent care of you in placing your implants.
Traditional Dentures
If you are not a candidate for dental implants, meaning you've already experienced too much jawbone deterioration, we also offer traditional dentures that live up to our high standards. We use high precision technology and the most durable, natural-looking ceramics to create beautiful dentures that look, feel and function just like natural teeth.
Partial Dentures
If you are missing most, but not all of your natural teeth, we also offer partial dentures to fill the gaps and bring your smile back to life. Partial dentures are similar to dental bridges in that they offer several fabricated teeth, anchored to healthy teeth with the help of crowns or clasps to lock them in place.
If you have any questions about our denture options or are ready to schedule a consultation, contact your Gwinn denture dentist, Dr. Gwendolyn Buck today by calling (906) 661-1026 or schedule online!